Pixar
is the company that produced
Inside Out
.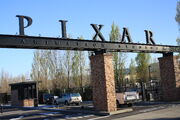 Films
Toy Story (1995)
A Bug's Life (1998)
Toy Story 2 (1999)
Monsters, INC. (2001)
Finding Nemo (2003)
The Incredibles (2004)
Cars (2006)
Ratatouille (2007)
WALL-E (2008)
Up (2009)
Toy Story 3 (2010)
Cars 2 (2011)
Brave (2012)
Monster's University (2013)
The Good Dinosaur (2015)
Finding Dory (2016)
Cars 3 (2017)
Coco (2017)
Incredibles 2 (2018
Upcoming Films
Toy Story 4 (2019)
An unnamed film set for a summer 2020 release
An unnamed film set for a fall 2020 release
An unnamed film directed by Pete Docter
Trivia
Inside Out and The Good Dinosaur are the first two Pixar films that got released on the same year.
The original film before "Inside Out" was called: Newt. Since the movie had so many similarities with the movie Rio, they couldn't couldn't keep doing the project, so they changed the movie project into the beloved film: "Inside Out."