Mindy Chokalingam (Born June 24, 1979),  knowing professionally as Mindy Kaling, is an American actress, comedian, and writer. She is the creator and star of the Fox sitcom The Mindy Project, and also serves as executive producer and writer for the show. She is also known for her work on the NBC sitcom The Office, where she portrayed the character Kelly Kapoor and served as executive producer, writer and director.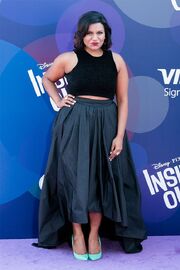 Ad blocker interference detected!
Wikia is a free-to-use site that makes money from advertising. We have a modified experience for viewers using ad blockers

Wikia is not accessible if you've made further modifications. Remove the custom ad blocker rule(s) and the page will load as expected.