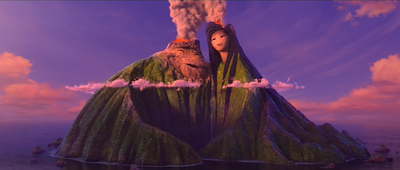 Lava is the short film before the movie,"Inside Out."
Summary
"A story that takes place over millions of years and is inspired by the beauty of tropical islands and the allure of ocean volcanoes."
Plot
The short begins with a calm Hawaiian-sounding tune. Then we see all of the animals living on the island with a mate. Then we hear the singing. It is coming from a volcano that wants somebody to, "lava". After many years of subsidence, only his eyes and mouth were out of the water. He kept singing his hope to find somebody to lava. As he was going under, a new volcano came! She was a tall beautiful women volcano! He tried to sing to her, but he couldn't, he fully went under water his eyes filled with tears, crying that he never got his chance to lava or even meet the lady. Well, the lady was still looking for him. She then sung his song hoping for the same thing, lava. He heard the song and his lava formed a heart and he surfaced out to the surface. Later on, we see the volcanoes smiling happy singing their song of hope.
Cast
Kuana Torres Kahele- Male Volcano
Napua Makua- Female Volcano
Trivia
The short film Lava was originally released in 2014 at a Hawaii film concert. The short film went up for the Oscar category: "Best Animated Short Film." The film didn't get the nomination, but the short got released again with the movie "Inside Out." Since the short was originally released in 2014, it couldn't get nominated this year for "Best Animated Short Film"